Visualizations and animations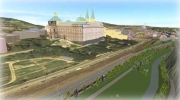 The recording by means of terrestrial laser scanner provides a highly efficient way of detailed animations, or other visuals to be created.
It can be generated, for example 3D animations for exhibitions to be presented in an endless loop.
Visualizations can also be available online and made easy access to the public. This is a adequate opportunity utilized for construction project that come closer to its citizens and thereby achieve a higher acceptance.