Facades, bridges, monuments, cultural heritage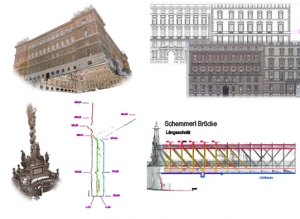 Laser scanner scalability, even in the smallest details, allows the data collected to be analyzed directly at any time after the desired time of collection. In the same tine with laser scanning process can be done also the image capture with digital camera attached to the device.
The inclusion of different points of view, it also allows to detect hidden objects and complete as present as orthoimage. The recording is done directly, quickly and without extensive preparation.
or for accurate reconstruction.
Typical evaluations include:
CAD line analysis (2D or 3D)


Orthophotos / Orthoimages


Profiles


Deformation measurements (before / after)


Visualizations


Animations

Architektur - Kultur Folder (PDF, 0 KB).